Warehouse layout planning is the process of designing and optimizing how your warehouse is organized. Your warehouse is an integral piece of the supply chain, so it's essential that goods can be moved efficiently through receiving, storage, and fulfillment. Smart warehouse layout planning addresses all the essential areas of inventory management, including loading and unloading areas, reception, storage, picking, and dispatch. The goal is a warehouse that meets your internal business needs while also enabling you to meet your customers' expectations.
An orderly, detailed, and thoughtful warehouse design is critical to a smooth supply chain and safe working environment. Your warehouse is only as efficient and safe as its warehouse layout planning allows. By optimizing your business's warehouse layout, you can increase safety and efficiency, and avoid incidents such as forklift collisions, falling material, and equipment related injuries. That, in turn, could increase your productivity, giving you a competitive advantage and increasing your bottom line.
We've provided warehouse layout planning services to satisfied customers since 1986. With a team boasting over 150 years of combined experience in warehouse planning and material handling, you can trust us for superior warehouse planning services.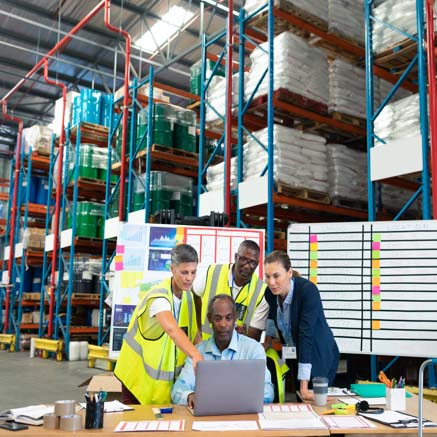 Warehouse Layout Planning Basics
Planning your warehouse layout is one of the most important considerations in managing your business. In addition to safety training, prioritizing your warehouse's layout and organization ensures optimal efficiency and safety.
"I was so impressed with the customer service provided by Conesco. The warehouse workers were very polite, attentive, and extremely helpful. I have never purchased warehouse storage equipment before, so I didn't quite know what to expect. But the workers went above and beyond to ensure that my new materials were safely packed on my trailer for a 3 hour trip. They even gave us a spare ratchet strap! I highly recommend for anyone looking to purchase storage equipment." – Adam C.
When planning a warehouse's layout, designers consider several key factors, such as space and safety features. Successful warehouse designers know how to maximize space for efficiency and safety. That includes minimizing how much products need to be handled to move them through the supply chain faster. It also includes ensuring adequate space for moving around the warehouse—an activity that accounts for, on average, 60% of workers' time. (6river.com) They also incorporate or recommend important safety features, such as lighting, signage, speed limits, checklists, and visual warning at dock edges.
Hire a Conesco warehouse planner!
To ensure optimal inventory management, your warehouse needs expert warehouse layout planning for five primary areas:
Reception
Dispatch
Storage
Picking
Loading and Unloading
Your company can reduce friction and enhance performance by creating a warehouse plan that meets your current logistics demands—and includes accommodations for future growth.
Talk to one of our warehouse experts >>
Warehouse Layout Planning for Safety
A safe warehouse environment can help you achieve greater efficiency and productivity while also reducing the frequency of injuries.
Effective warehouse layout planning solutions include everything from warehouse safety and organization training to material safety equipment, practical shelf placement, and more.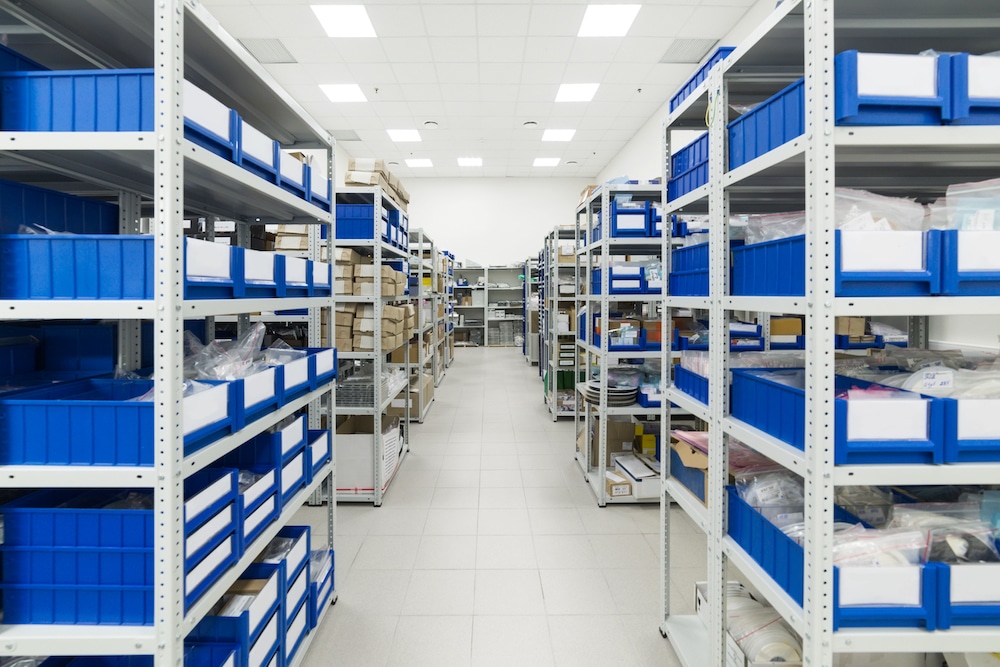 Warehouse safety considerations exceed those of white-collar environments. Heavy machinery, bulky cargo, and stacked materials are only a few of the concerns facing workers, safety managers, and supervisors.
Warehouse layout planning designers address those concerns, and mitigate their risks, with well-defined, custom warehouse plans.
It's essential that your warehouse has enough space to carry out all of your receiving and shipping needs safely. Pedestrian and vehicle accidents—leading to injury or damaged stock—can occur because of limited space and poorly demarcated areas.
Fortunately, warehouse layout planning can account for those needs to create a safe and efficient operation, allowing you to unload, store, and ship items quickly. One means of protecting employees is with safety products, including
Guard rails to protect goods, conveyors, platforms, and other equipment.
Steel safety bollards to protect against collisions.
Dome mirrors to give employees lines of sight in otherwise blind spots.
Rack safety back panels to keep employees safe from falling objects.
Modular safety handrail systems to protect workers from moving vehicles and other dangerous equipment.
It's also important that employees prioritize safety to reduce job site hazards. By following safety guidelines in a well-planned warehouse, workers can minimize their risk of accidents and injuries, and minimize your risk of OSHA violations associated with warehouse safety violations.
Safety training can help warehouse employees to enjoy a safe, productive work environment. Regular safety training, and familiarizing employees with all warehouse updates and changes, will also help them maintain a safe environment and identify opportunities to improve safety.

Warehouse Layout for Efficiency
Investing in expert warehouse layout planning can help you increase warehouse efficiency and streamline your business. And if your warehouse layout hasn't kept pace with your growth, an update could improve your ability to accommodate past and future growth.
Warehouse efficiency is closely tied to the costs of stocking and distribution. By streamlining your operation, you can lower those expenses and increase profits. Measuring your warehouse performance, by looking at, for example, fulfillment, stocking, and operations, will give you a better idea of which areas need to be improved.
Warehouse layout planning designers pay close attention to loading and unloading as the first part of warehouse processing. For example, setting up those areas as separate spaces helps them to function independently of each other and to improve efficiency. They can be integrated with the rest of the warehouse or established independently, depending on your needs.
"It was a real pleasure working with Conesco on my storage project. I wasn't exactly sure as to what I needed but after talking with their staff they laid out a plan that was both efficient for my needs as well as cost friendly. I would highly recommend them." – Teri T.
In the reception area, warehouse layout designers will focus on creating an independent area for receiving and sorting incoming items. Slow order picking can create friction in the shipping process, so designers work to design storage (ground, stacked, racked) that makes it easy for pickers to locate and pick orders rapidly. Setting up a dedicated area for dispatching, where employees pack and load orders, can also cut time from the fulfillment process.
By establishing warehouse layout planning solutions that address operational efficiency, stocking and storage, and fulfillment performance designers can help you put in place a system that's efficient and safe.
Maintain Warehouse Efficiency and Safety
Remember, with warehouse layout planning, you'll want to maintain your heightened level of efficiency and safety. You can do that easily with regular safety training, continual audits of both your logistical needs and safety considerations, and by updating your warehouse design as-needed to accommodate growth.
Get the Advantage of Efficient Warehouse Layout Planning Services
Give your company the security and competitive advantage of a safe and efficient warehouse with expert warehouse layout planning services.
Call today +1 (303) 690-9591.