Conesco buys and sells new and used material handling equipment. We understand conveyors are an important component to your warehouse operation. Conesco is actively looking to buy and sell your warehouse conveyor systems.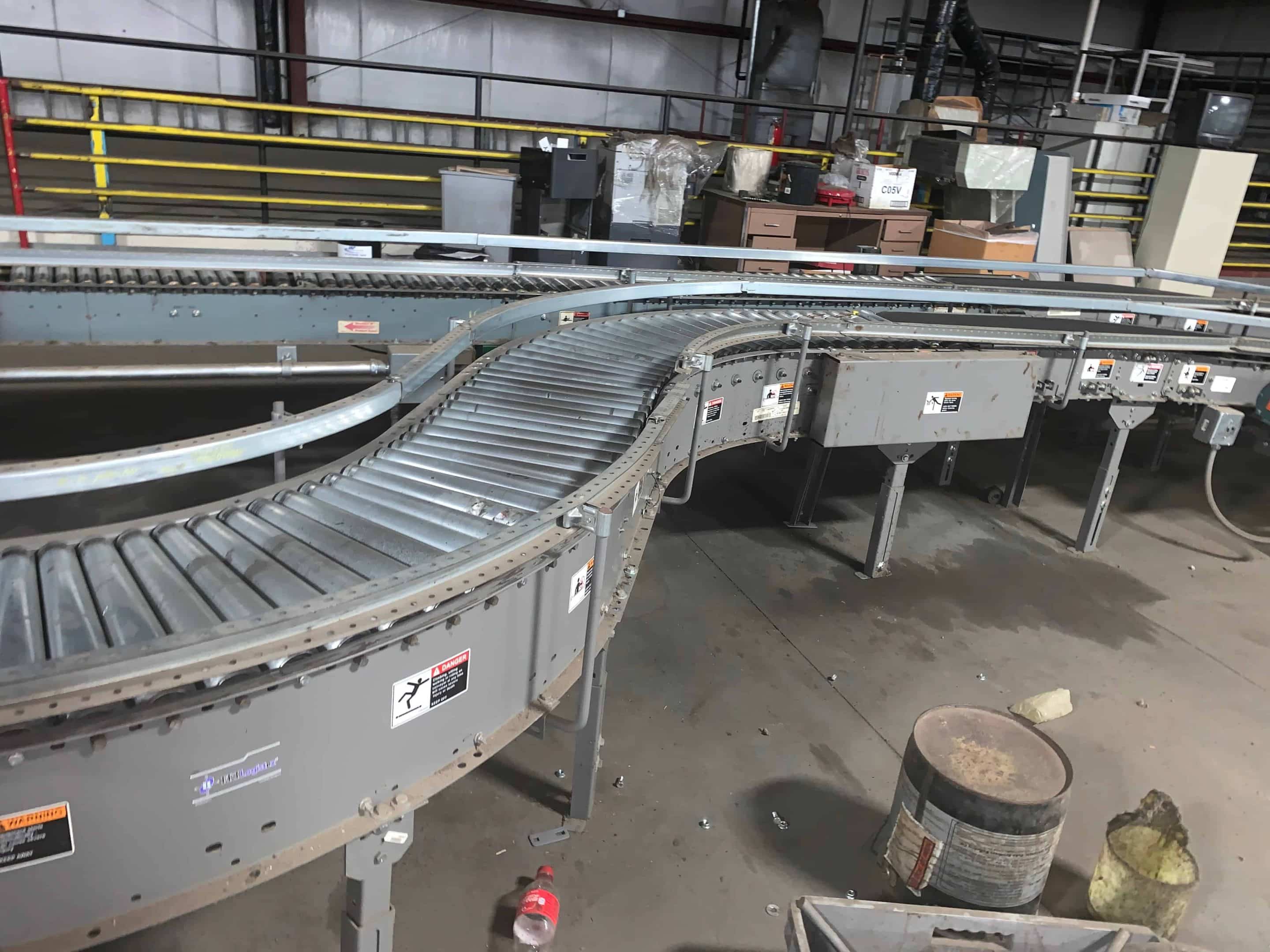 Types of Conveyors we buy and sell
Gravity Conveyors move objects without motor power.  There are many styles and options for efficient and low cost material handling and sortation.  Skatewheel and roller conveyors are the most common.
Belt Conveyors transport product by means of a moving belt and come in slider bed or roller bed structures.
Power Roller Conveyor or live roller, are motorized rollers to move your inventory.  Depending on the capacity required, the rollers can be powered by chains, belt, or O-rings.
Flexible Conveyor have the ability to expand several feet and also be curved as needed, then when more room is necessary they contract to be stored.  These conveyors come in both power and gravity flexible applications and can be adapted to many different functions, particularly in shipping departments.
Accumulation Conveyor holds product in place until a programed or manual signal is given to release and feed the product at a specified rate of speed, or to hold it until ready to loaded or shipped.  Accumulation Conveyor comes in minimum pressure and zero-pressure accumulation.
Portable Conveyors are designed to be moved as needed to provide flexibility in loading, unloading, or change-of-level applications.
Incline/Decline Belt Conveyors also referred to as "Floor to Floor" are designed to move product between two different elevations, such as a mezzanine.
Vertical Conveyors are used to raise or lower product or materials to different levels or floors.  Sometimes referred to as freight lifts or material lifts.
Spiral Conveyors serve the same purpose as vertical conveyors, however spiral conveyors are able to transport material loads in a continuous flow.  They are most generally used over standard vertical conveyors due to their ability to facilitate high throughput.  Spiral conveyors also have a lower angle of incline or decline to prevent sliding and tumbling.
Ball Transfer Tables are used to transfer products to a different conveyor line or other work station by use of omni-directional or "all-directional" load-bearing conveyor.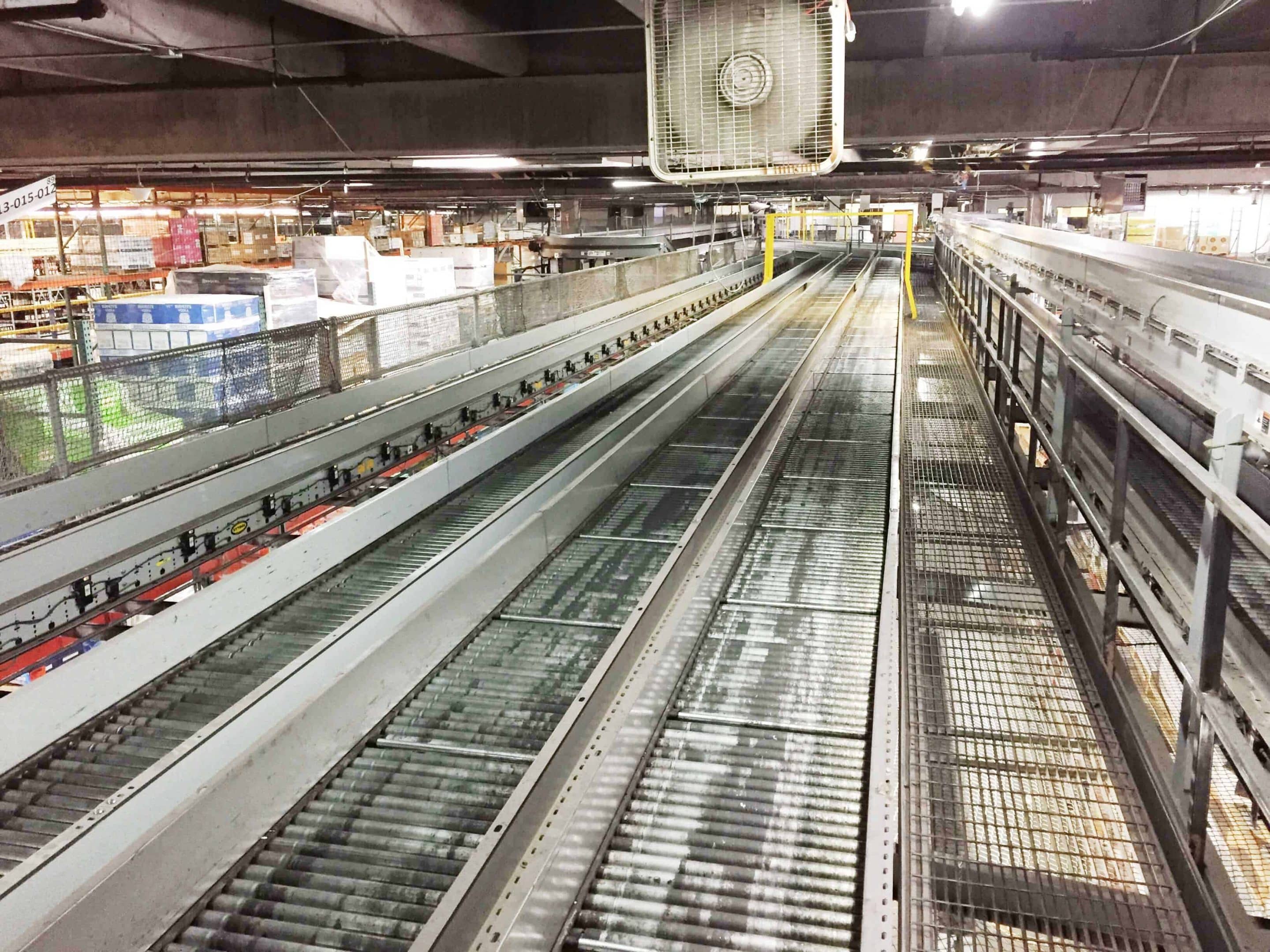 What kind of warehouse equipment do you buy?
We are looking to purchase large quantities of pallet racking and most other warehouse equipment.
Do you serve my location?
CONESCO serves the entire United States from multiple locations.
How quickly can we get started?
It might be quicker than you think! The first step is to give us a call or have us call you. Once we have a good understanding of your unique situation, we typically provide a quote within 5 days and will schedule a time with you to have one of our team members come visit your site.
Will you buy and remove everything from our warehouse?
Our specialty is in used pallet racks (uprights, beams, wiredecks, pallet supports), pallet rack accessories (like guide/ guard rail, netting), conveyor systems, mezzanines, and pick modules. If your warehouse also includes different material like
balers
shrink wraps or
lifts,
then we can buy/ remove those as well.
Sometimes material is in bad shape or is a very uncommon size or outdated brand. In some of these cases we do not purchase the materials, however we still can provide you with our teardown services to remove the materials from your warehouse. We encourage everyone to reach out so we can better understand what is in your warehouse and what your intentions are. Once we have a good understanding, we are happy to provide you with our recommendations, even if that means not using us.
Will you clean up after you have finished with the shelving and equipment removal?
Absolutely! Removing used warehouse equipment is a messy job. All debris will be properly disposed of and the floors swept.
We are still operating. Can you work around us?
Yes! There are a few things that will need to happen in order to ensure everyone's safety and some other items need communicated like an agreed upon timeline. It's true, an operating warehouse will sometimes slow down a teardown project. But, we understand it's necessary to avoid disruption of your business during the warehouse shelving and equipment removal process.
How long will the used equipment removal process take?
We get that question all the time! It depends on many factors such as:
will the warehouse be shut down or,
will it still be operating?
How much material is there?
Are the uprights bolted down to the ground?
Best practice is to give yourself multiple months of time in planning so that way you provide a buffer for your project to finish according to a timeline. Getting a full count of the materials and good pictures is a great way to start the process of evaluating the decommission of your warehouse.
Will you leave holes in the floor or walls after the removal process?
No. Removing floor anchors does create holes but we take responsibility for grinding them down to be flush with the cement or fill them with cement epoxy.
Powered by HTML5 Responsive FAQ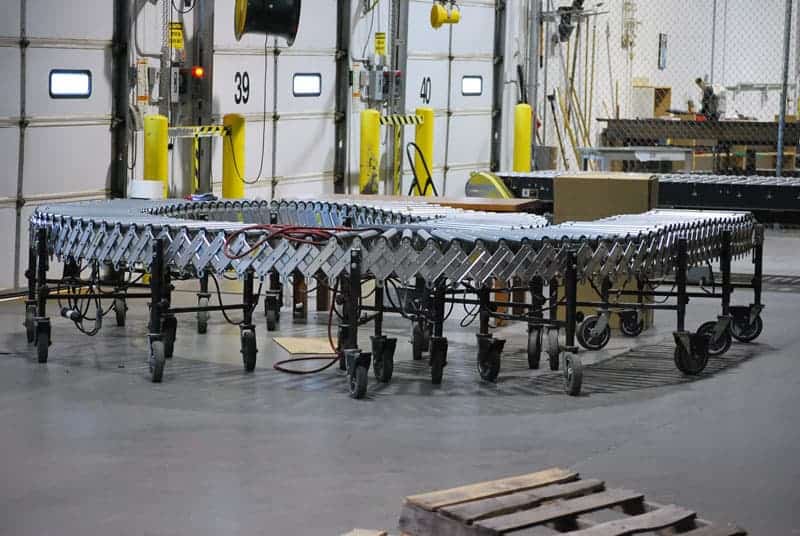 Talk to one of our experts to get started today:
Why a conveyor?
Conveyor systems are an effective means for transporting all types of materials quickly and efficiently from one location to another.  They are able to safely transport materials from one level to another while moving loads of all shapes, sizes and weights.  They come in many different variations depending on the needs of different industries and have the flexibility to set up quickly and easily to save on assembly and installation time.  A sorter is usually necessary when the speed of the operation is too fast for accuracy of the manual labor.  If sorting is needed then an efficient sortation system can be incorporated into your material handling system that would automatically funnel product to another conveyor or channel for consolidation, put-away or other need.