The Complete Guide to Warehouse Planning
Planning or remodeling a warehouse takes a lot of forethought to make product fulfillment most effective and efficient. However, this preparation is extremely important in creating an optimized warehouse, ultimately saving you time and money and making your business more profitable. We have been in business since 1986 and have kept up to date with current market trends. This is why it is so important to work with CONESCO when making a warehouse plan for your company.
What is warehouse planning?
Warehouse planning is a type of factory planning, which involves planning how materials flow, how equipment is handled, and how the warehouse infrastructure is designed. Some benefits of warehouse planning include:
Better organization
More floor space
More efficiency overall
Improved safety for workers and reduction of workplace accidents
Increased profitability
Sustainability
What is the warehouse planning process?
The warehouse planning process involves the consideration of space, equipment, inventory, and overall processes to aid in achieving your operational goals. Working with CONESCO allows your warehouse to maximize storage, optimize safety and reduce operating expenses.
How do you make a warehouse plan?
In order to make a warehouse plan that is actionable, it's important to divide this process up into four phases:
initiation;
planning;
implementation; and
closing.
Since creating a warehouse plan can be so complex, splitting the process up into four phases helps to make it easier to tackle. Have CONESCO help you today with your warehouse planning to achieve your goals. .
Have CONESCO's warehouse planners help
CONESCO's expert warehouse planners can help you establish a safe and efficient warehouse, storage facility, or distribution center. With a customized warehouse plan, you can make your business more profitable by increasing storage capacity, reducing damage to goods, and enhancing order fulfillment. That means easier access to inventory, which is essential to productivity in a warehouse or large storage facility.
The right warehouse planner can evaluate your warehouse layout and identify planning problems that could cause delays. For example, when pickers can't access the inventory they need at critical times, you'll be slow to process and deliver orders. Ensure your pallet racking layout and systems are optimized for efficiency—your reputation, and your bottom line, may depend on it.
Our team at CONESCO has been providing warehouse planning services since 1986. This service requires precise knowledge and years of experience. We bring over 150 years of combined warehouse planning and material handling experience to every job. From pallet rack decking to pallet rack load beams, upright frames, and other storage options, CONESCO Storage Systems has experience planning warehouse racking with solutions and equipment of all shapes and sizes. Call us today with your warehouse planning needs.
1. Initiation phase
The main point of the initiation phase is to identify the problem(s) you are attempting to solve. These problems may look different depending on whether you are remodeling a warehouse or establishing a brand new one and can be specific to your industry. If you are remodeling, you may be facing issues with your equipment or products being placed inefficiently or have poor flow due to the layout of your warehouse.
If you aren't exactly sure what is causing inefficiency, you should hire a professional warehouse planner. It may also be helpful to leverage technology, such as radio frequency identification or mobile scanners to identify which goods are moved the most, how much time it takes to store, select, package, and ship your goods, and which areas of your warehouse have the most traffic. This information enables better analysis of your warehouse flow to address these concerns.
2. Planning phase
Once you have identified your warehouse's issues, you will enter the planning phase. This phase establishes the work that needs to be completed, the resources that work requires, the estimated cost of the project, and the timeline for the project. During this phase you will want to create a map of the warehouse, either manually or with software. It is important to use this map to note key processes your warehouse requires and the direction of the related workflow operations.
Other things you should illustrate on the map include:
Overhead doors
Columns/supports
Dock doors
Height restrictions
Equipment installed
Office areas
The direction every door opens
Operational locations
Operational locations may include:
Inbound/receival areas
Stocking areas
Packing desks
Damaged product stations
Free areas
Outbound/shipping areas
Any other workflow areas
It's also important to note which areas receive the most movement and the necessary space needed between shelving, etc. Another thing to  take into consideration is whether you require forklifts or pallet jacks, which require wider aisles to maneuver through. After identifying the areas that need to be optimized, you'll want to establish which resources you need and what your budget should be. It's essential that there is enough room for both equipment and workers to easily navigate the space safely.
It's also important to be able to visualize the space and potential layout configurations. One way of doing this is with the use of a computer-aided design (CAD) tool. The downside of this is that most commercial CAD tools currently on the market are not designed specifically for warehouses. Another option is to build 3D renderings with software like AutoCAD. Some warehouse managers utilize sketching tools to create 3D models. But another option is to hire a warehouse design consultant, who has the knowledge and experience to help you create these photorealistic models, which can help you to decide which layout is best to achieve your goals for your warehouse.
What are the 3 warehouse layout options?
After you have collected all of the aforementioned information and you have outlined your goals, you can decide which layout will help you to achieve them. The right layout for your warehouse will improve production and distribution efficiency. Unfortunately, there's no warehouse layout pattern that works for every warehouse operation.
There are three main types of warehouse layouts that companies use for their operations:
1) U-shaped;
2) I-shaped; and
3) L-shaped.
1. U-shaped warehouse flow
The most common warehouse layout is the U-shaped warehouse flow. The U-shape layout is generally considered best for those who are establishing a new warehouse. In a U-shape layout, everything is arranged in a semicircle. Shipping and receiving are on opposite sides of one another and storage is in the middle. By keeping shipping and receiving across from one another (on opposite sides of the "U"), this helps to prevent too much traffic. Since both the entrance and exit are on the same side of the building, less space is required and workers can move quickly without bottlenecking. However, if the shipping and receiving areas are too close to one another, the U-shape layout can create production congestion.
2. I-shaped warehouse flow
The I-shaped warehouse layout is another option. I-shaped layouts are generally used by larger companies that have larger warehouses. The I-shape layout has a very clear inbound and outbound workflow, which is conducive with higher production volume. As you can imagine, the I-shape warehouse layout uses the entire length of the warehouse and flows straight from receiving to shipping. This type of layout prevents the need for workers to move back and forth, instead acting as a type of assembly line. The reason I-shaped layouts aren't chosen as often is because the warehouse needs space for unloading and loading on two opposite sides of the building. This also requires docking equipment for both areas which can pose another challenge.
3. L-shaped warehouse flow
The last major (and least common) layout is the L-shaped warehouse layout. Usually L-shaped layouts are used when the warehouse is also L-shaped. It would be very unusual to use an L-shaped flow otherwise. With an L-shaped layout, shipping is on one side and receiving is at a 90-degree angle on the adjacent side of the building. The advantages of an L-shaped layout are similar to that of an I-shaped layout. However, L-shaped layouts require a lot of space to be effective.
Once you have decided upon the best layout, you will need to put together a list of the equipment you'll need and the costs that are associated with it. Consider whether you'll require any of the following equipment:
Forklifts
Pallet jacks
Pallet racks
Flow racks
Cantilever racks
Industrial shelving
Service carts
Yard ramps
Dock plates
Hand trucks
Automating operations
You'll also want to consider these operations systems and technologies that can help to automate your operations. This may include:
Warehouse management system (WMS) – A WMS can help to gather and organize all of the data from your technology so that you have a better understanding of how your space is utilized and how people and goods move through it. This can aid you in improving your warehouse layout so that you can maximize efficiency.
Automated guiding vehicles (AGVs) – AGVs can help to transport heavy goods from one part of the warehouse to another. They also can help streamline the flow of goods through your warehouse and should be incorporated into its design.
Automated inventory management systems – These systems make it easier to count and track items without having to do it manually. These systems also allow you to maximize the space in your warehouse by limiting the amount of free space that you'll need to move packages.
Automated picking tools – Automated picking tools can improve your warehouse's picking rate accuracy.
Automated storage and retrieval systems (AS/RS) – An AS/RS can help to limit the movement of workers. However, these systems are generally only recommended for moving products without any interim activities. This is because they are known to be awkward to use.
Other collaborative robots – Other collaborative robots are responsible for carrying out tasks so that humans do not have to. They help you to increase the automation within your warehouse and therefore improve efficiency.
After deciding upon your necessary equipment, technologies and software, you will want to set deadlines for key project milestones to make sure that you stay on track. Setting a detailed schedule is important that includes things such as your individual tasks, the estimated start and end dates for each task, the estimated duration of each task, the dependencies of each task (things that must first be completed), and the owners and support teams for each task. Project management software can help you to do all of this very easily and efficiently.
3. Execution Phase
If you already have day-to-day business responsibilities you may choose to implement new changes slowly or all at once. The approach that you decide on will also be influenced by several factors, such as the size of your warehouse, the time of year and whether you're really busy, the storage conditions of your goods, and your vendor's installation specifications. Regardless of the approach you decide on, it's key that you openly communicate the coming changes to your employees so that they know what to expect and can plan for it accordingly. This allows them to anticipate what they will need to learn, what they will need to change, and how everything will be implemented. Informing your workers will only serve to improve how smoothly and quickly these changes are implemented.
4. Closing Phase
Even after you complete your project, there is still work to be done. It's important that you closely examine what went well and what didn't. Reviewing this process with your management team and other employees will help you plan for future warehouse projects. You can then use this information for any future layout improvements to your warehouse.
How much does warehousing cost?
While the cost of starting a warehouse can vary greatly, the average cost of such a business is about $37,000. This cost accounts for things such as the building you use, the equipment and machinery used (e.g., shelving, forklifts, etc.), and the wages you pay to your warehouse workers.
There are also many startup costs, such as:
Insurance
Warehouse and office equipment
Licenses and/or permits
Company website and software
Wages
Paper/stationary
Marketing/advertising costs
While this may seem overwhelming, the good news is that the average warehousing company will generate $1-10 million in annual revenue.
Warehouse planning reduces warehouse operating expenses
A well designed warehouse can reduce operating expenses and increase efficiency in a warehouse or storage facility. Downtime can also be minimized during design, pallet rack assembly, and installation to keep your business running as smoothly as possible—a quick and easy upgrade well worth the investment. You can also save on maintenance costs with scratch-resistant finishes. And pickers will be able to increase productivity by accessing inventory quickly using carton flow racks.
Warehouse planning maximizes warehouse storage
Warehouse planners at CONESCO bring expertise in creative warehouse layout solutions to maximize your warehouse's storage space. For example, vertical storage solutions enable businesses to stack inventory, taking advantage of unused space while keeping inventory easily organized and accessible. Vertical pallet racking also helps to maintain clear aisles, increasing safety for employees.
Warehouse planning optimizes warehouse safety
In addition to reducing operational expenses and increasing storage space, warehouse planners use quality pallet tracking systems to optimize safety. Forklifts can maneuver safely with adequate aisle space, abundant storage space helps to ensure sufficient room for workers to navigate and handle inventory. Precautions devices such as column protectors provide extra safety. Safety is crucial for your workers and for your warehouse to function properly.
"Over the past few years Conesco has proven to be valuable partners for our growing company. They understand their market and the priorities of our business, often helping us stay ahead of changes in demand for new and used racking so that we can get what we want when we want it.  It is good to have a partner that can anticipate your needs and stay ahead of them, that is the level of service that Conesco has demonstrated on a regular basis."
~ Third Party Logistics [3PL] Company
"Working with Conesco was great. They asked the right questions, understood what we needed and our Denver Facility went in under budget. Good guys, good prices, and good services."
~ Multinational Grocery Supply Company
"We have worked with Conesco for over 8 years, they are leaders in the Racking Industry, exceptional customer service and great in every aspect to work with. I refer them to anyone I know with racking needs."
~ Third Party Logistics [3PL] Customer
Professional warehouse planners here to help
Your warehouse or storage facility is unique, with needs specific to your space, goals, and priorities. Our warehouse planners will assess your facility's layout and organization, and determine your available space and how much more space you need. They'll recommend the most appropriate warehouse plan for your needs, whether you're a 3PL, eCommerce, or manufacturing company. You can feel confident that with CONESCO you're getting superior service, warehouse planning expertise, and excellent products.
As a team with hundreds of years of combined experience, CONESCO has a deep understanding of the complex nature of warehouse planning. In an ever-changing industry, we remain dedicated to meeting your needs and helping your business meet its goals.
At CONESCO, we get to know your unique needs and then work with you to arrive at an efficient solution that works for your budget. We apply our experience to evaluate your storage and retrieval weak points, consider the pros and cons of various automated approaches, and advise you on the right equipment to deliver results.
When planning your warehouse, CONESCO's knowledge and industry experience is an invaluable resource. We stay in touch with industry trends, equipment and systems available. Our services include:
Plant and warehouse layouts
Conceptual development
Progressive work
Automated storage and retrieval systems
New installations or system upgrades
Our warehouse planning team includes:
An expert in industrial real estate who creates finder fee relationships
A knowledgeable equipment buyer with high purchasing power
A crew of experienced warehouse space planning experts ready to help you
Contact CONESCO today to learn more about how we can efficiently and effectively assist in the smart planning of your warehouse.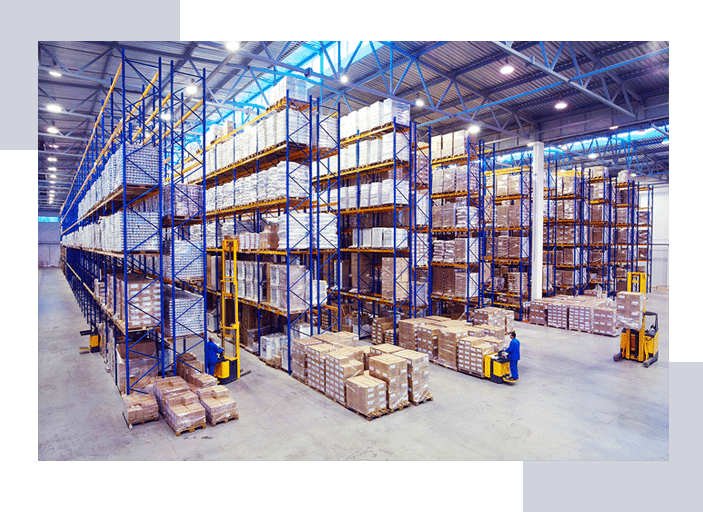 MATERIAL HANDLING SOLUTIONS EXPERTS
NEW & USED INDUSTRIAL PALLET RACK
"Conesco gave us the top dollar cash offer for our standing pallet rack. They also provided the crew to tear it down and get the material out of our building within the tight time-frame that we had to be out. Their team was very helpful throughout the process. We recommend working with them.
~ National Beverage Distribution Company
TALK WITH AN EXPERT. CONTACT US.
Conesco can help. Complete our contact form or call us directly at: (303) 690-9591.
"Working with Conesco was great. They asked the right questions, understood what we needed and our Denver Facility went in under budget. Good guys, good prices, and good services."

~ Multinational Grocery Supply Company
"We have worked with Conesco for over 8 years, they are leaders in the Racking Industry, exceptional customer service and great in every aspect to work with. I refer them to anyone I know with racking needs."

~ Third Party Logistics [3PL] Customer
"Over the past few years Conesco has proven to be valuable partners for our growing company. They understand their market and the priorities of our business, often helping us stay ahead of changes in demand for new and used racking so that we can get what we want when we want it.  It is good to have a partner that can anticipate your needs and stay ahead of them, that is the level of service that Conesco has demonstrated on a regular basis."

~ Third Party Logistics [3PL] Company
MORE MATERIAL HANDLING RESOURCES
Looking to buy used warehouse equipment in Seattle, WA? You are in the right place. CONESCO has a complete catalog of high quality used warehouse...
read more