Material handling equipment is used to move, store, control, and protect materials, from manufacturing through distribution, consumption, and disposal. That includes loading, unloading, and moving them—often with mechanical devices—in warehouses and manufacturing locations.
The types of material handling equipment fall into four main categories, and range from simple shelves and racks to robotic delivery systems and many others.
4 Types of Material Handling Equipment
The four types of material handling equipment are
Storage and Handling Equipment
Bulk material Handling Equipment
Engineered Systems
Industrial Trucks
Type 1: Storage and Handling Equipment
This type of material handling equipment is the most basic of the four types. You can store material after it's received by using shelves, racks (including cantilever racks and flow racks), drawers, bins, stacking frames, and mezzanines. Depending on your needs, they can be built vertically to maximize usable space. Talk to one of our warehouse experts >>
Type 2: Bulk Material Handling Equipment
Some material comes in loose, bulk form. Equipment is needed to store, transport, and control that material, such as to hold it together. Various types of material handling equipment for bulk materials include
Hoppers store material and release precise amounts of the material from the bottom.
Conveyor Belts transport material on moving belts—or complex engineered systems when combined.
Stackers and Reclaimers dump material into piles or pick up material.
Screw Conveyors move material through tubes via a turning, screw-shaped device.
Grain Elevators elevate grain, in a series of buckets attached to a track, to a height where it can be funneled into silos.
Rotary Car Dumpers dump material by turning a rail car.
Bucket Elevators also transport bulk material via buckets.
Dump Trucks also are a type of bulk material handling equipment.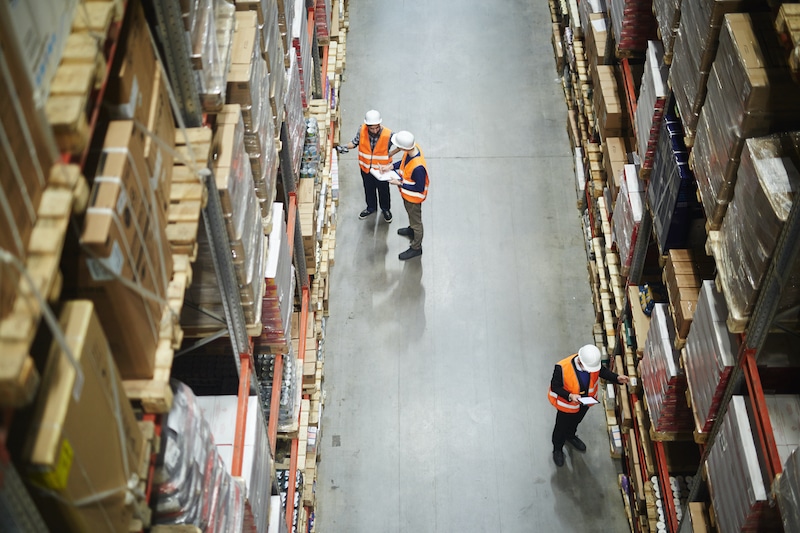 Type 3: Industrial Trucks
These include vehicles that can be operated by people to move material, and Automated Guided Vehicles (AGVs) that run automatically. Additional examples of this types of material handling equipment:
Pallet Trucks are electric or hand-operated to slide into pallets and move them.
Hand Trucks ("dollies") are L-shaped devices that enable users to tilt, and move, heavy objects by hand.
Order Pickers elevate workers to reach material in high places.
Side-Loaders load material in narrow aisles.
Forklifts are used to pick up and move heavy material.
Walkie Stackers lift and move pallets similar to forklifts, but without any place for a human operator.
Platform Trucks are like hand trucks with wider platforms.
Type 4: Engineered System
An Engineered System is a complex type of material handling equipment with multiple components. Conveyor belt systems, Automated Guided Vehicles, robotic delivery systems, and Automated Storage and Retrieval Systems (AS/RS), are examples of Engineered Systems. (AS/RS are automated systems, including AGVs, that increase warehouse efficiency.) Engineered Systems are expensive and complex, typically built, in part, from other types of material handling equipment. Additional kinds of material handling equipment include bottle lifters, concrete barrier lifting clamps, forklift lifting beams, crane pallet lifters, plate lifting hooks, container lifting lugs, bar tong lifters, reel lifters, material baskets and personnel baskets, and forklift pocket lifters.
"I was so impressed with the customer service provided by Conesco. The warehouse workers were very polite, attentive, and extremely helpful. I have never purchased warehouse storage equipment before, so I didn't quite know what to expect. But the workers went above and beyond to ensure that my new materials were safely packed on my trailer for a 3 hour trip. They even gave us a spare ratchet strap! I highly recommend for anyone looking to purchase storage equipment." – Adam C.

Identify Your Material Handling Equipment Needs
Fortunately, the types of material handling equipment have increased over the years as more specialized solutions were needed. They include everything from tools to units, appliances, and automated vehicles. This multitude of options underscores the importance of knowing your material handling equipment needs, and selecting—and vetting— the right material handling equipment for the job. Important questions to ask before you begin your search for the right equipment include (but are not limited to)
Materials
What types of materials do you have?
How are your materials packaged or stored?
Are your materials perishable?
Are your materials chemicals?
How frequently will you need to move the materials?
What size and shape are your materials?
What weight are your materials?
It's important to know in advance what type of materials you're going to need to move. Talk to one of our warehouse experts >>
Space and Facility
Next, consider the space available for your equipment. These questions will help you to get started:
What are the dimensions of the space?
Will you need automated equipment?
What, if any, environmental, regulatory, and safety standards will affect your buying decisions?
Could there be ready-made material handling equipment that would meet your needs?
Cost
Finally, set a budget for your material handling equipment to refine your options further. In addition to cost, consider advance equipment investments, operation and maintenance costs, and potential cost-savings that various types of equipment could deliver over time.
Choose the Right Material Handling Equipment for Your Warehouse
After you've described your materials, determined your space requirements, and refined your budget, decide which types of material handling equipment you'll need. Common types of materials include long-term storage and stock, bulk materials, and those requiring frequent transport.
Long-Term Storage and Stock
Some materials don't need to be transported frequently, and so need storage and handling equipment, such as racks, shelves, and pallets. By optimizing your storage space, you can ensure a safer work environment and enhanced efficiency. Other examples of long-term storage and stock equipment include sliding racks, push-back racks, drawers, mezzanines, and stacking frames.
Bulk Materials
Food, liquid, and minerals are best managed with types of material handling equipment designed for materials in loose, bulk form. Examples of this type of equipment include conveyor belts, grain elevators, bucket elevators, silos, hoppers, and stackers.
Frequently Transported Materials
Industrial trucks are a common solution for materials that need to be transported frequently. These types of equipment solutions include manual, powered, flat surfaced, and forklift. Examples include walkie stackers, hand trucks, order pickers, pallet jacks, pallet trucks, platform trucks, side-loaders, and some Automated Guided Vehicles.
"It was a real pleasure working with Conesco on my storage project. I wasn't exactly sure as to what I needed but after talking with their staff they laid out a plan that was both efficient for my needs as well as cost friendly. I would highly recommend them." – Teri T.

Get Help Choosing Your Material Handling Equipment
For help choosing the best types of material handling equipment for your job, trust Conesco. We've provided material handling equipment services to satisfied customers since 1986. Our team brings over 150 years of combined experience in warehouse planning and material handling to every job, so you can trust our recommendations and guidance when the time comes to find material handling equipment solutions for your company. Contact us today >>