Conesco Storage Systems liquidates warehouses for clients across the US. If you need to sell material handling equipment, or decommission a warehouse, we can help.
Customers look to our professional warehouse liquidators for comprehensive warehouse decommissioning services, warehouse breakdown, and material selling across a variety of industries. With dedication to efficiency and safety, we'll remove your warehouse equipment, handle sales, and leave you with a broom-ready facility—and ready to move forward to your next stage.
Fast warehouse breakdowns and decommissions
Do you have time-sensitive requirements for your warehouse breakdown or decommission? Our professional warehouse liquidators can meet those requirements with focus, planning, and key milestones. We're dedicated to keeping your project on schedule from tear down to clean up and liquidation.
We can decommission your warehouse within one day, if needed. And if you no longer need your warehouse—at all, or for the same purposes—call us for decommissioning and relocation services.
With multiple locations, we can breakdown and decommission facilities of all sizes, nationally, and across industries. When you need professional warehouse liquidator services, we're ready to help you—and help you recoup part of your initial equipment investment.
Professional warehouse decommissioning help
Warehouse decommissioning can be complex, so we recommend hiring professionals to handle every stage of the process. When it's time to decommission your warehouse, we have the expertise and resources to serve your needs. We provide warehouse liquidator services to industrial and commercial customers nationwide.
"It was a real pleasure working with Conesco on my storage project. I wasn't exactly sure as to what I needed but after talking with their staff they laid out a plan that was both efficient for my needs as well as cost friendly. I would highly recommend them."  -Teri Taylor
Large-scale warehouse decommissions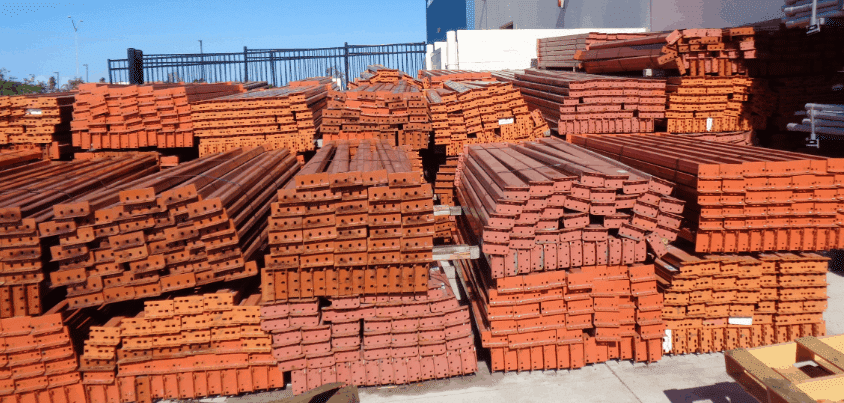 Our seasoned warehouse liquidators have actionable knowledge that benefits you throughout the liquidation process. For warehousing and material handling expertise, look no further. Conesco Storage Systems are your warehouse leaders, offering complete warehouse decommissions along with an array of additional warehouse services.
Material handling equipment and warehouse machines and supplies often require precise knowledge and training to properly maintain and relocate. Our team has been serving warehouse layout and equipment customers since 1986, with over 150 years of combined material handling and liquidation experience. From pallet racks to lifts and jacks, Conesco Storage Systems has experience with material handling equipment of all shapes and sizes.
Your full-service warehouse liquidators

An expert in industrial real estate who creates finder fee relationships
A knowledgeable equipment buyer with high purchasing power
A crew of experienced warehouse liquidators ready to help you
Warehouse breakdown and liquidator services
Providing labor for equipment installation and dismantling
Sales of pre-owned warehouse machines and material handling equipment at great prices
Maintain inventory in multiple locations across the US for easy, affordable warehouse solutions
Professional Warehouse Liquidators Deliver Comprehensive Service
At CONESCO, our professional warehouse liquidators provide a broad spectrum of warehouse breakdown and decommission services. That means transforming your fully operational warehouse into an empty space for the next tenant—or prepped for your next venture—and selling the warehouse equipment.
The breakdown includes tearing down all processing equipment, including (but not limited to) pallet racking, conveyors, and packaging lines. Based on your plans, we'll then stack, band or palletize, relocate and install your equipment in a new facility or prepare it for shipping.
Our approach also includes demotion and disposal, as well as inspection and repair of warehouse lighting, floors, roll up doors, offices, and more, and removal or replacing of signage, gates, and paint.
Push back pallet racking
Push back pallet racking offers the ability to store more product while maintaining product rotation speed. Increased purchases of this racking solution speak to its popularity among distribution centers. Your professional warehouse liquidator can help you liquidate your push back pallet racks quickly.
Teardrop Pallet Racks
The boltless Teardrop Pallet Rack is among the fastest selling pieces of warehouse decommissioning equipment. That's because it's economical, efficient, and flexible. It offers easy assembly and rack adjustments, making inventory processing simpler.
Pallet Flow Racks
Pallet flow racks, or "gravity flow" racks, are known as "first in, first out" warehouse storage systems. Pallet flow racking reduces aisles to maximize storage space. There's often a waitlist for this popular warehouse racking solution. Warehouse liquidators can quickly find buyers for your pallet flow racking systems.
Wire Decking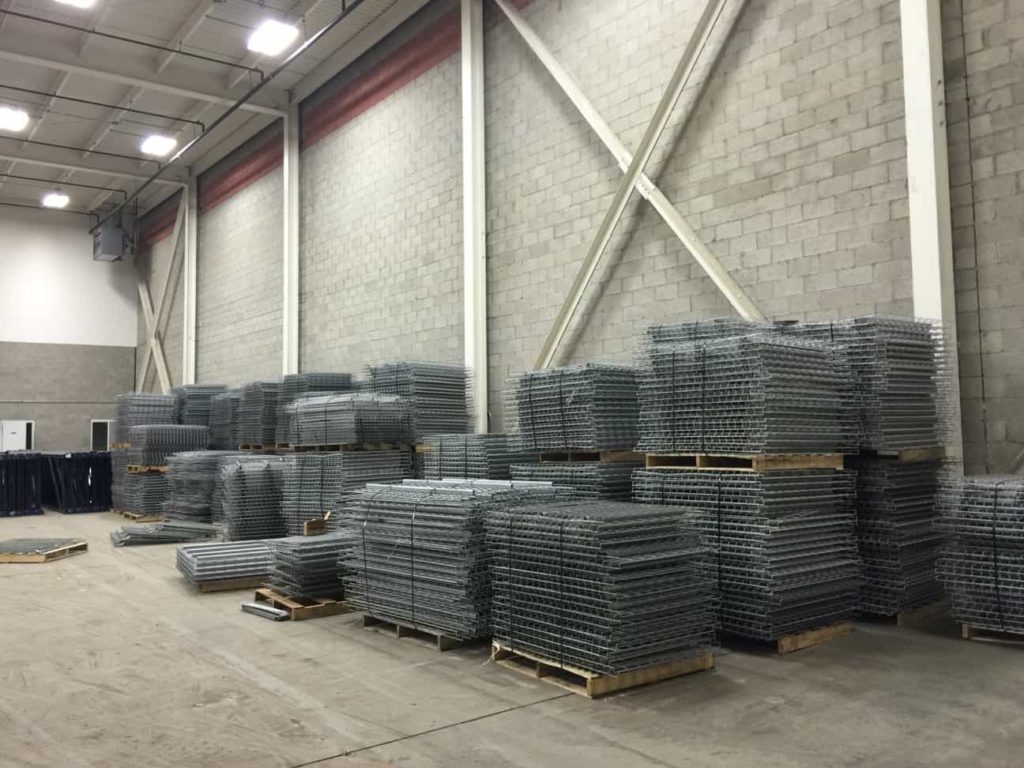 Open grid wire decking is a safety requirement on pallet racking at warehouses, distribution centers and manufacturing plants. Wire decking prevents pallets from falling through the rack structure. Open grid wire decking also allows heat to pass through to sprinkler systems in case of fire.
"Working with Conesco was great. He asked the right questions, understood what we needed and our Denver Facility went in under budget. Good guys and good prices." – David Ballins
Drive-In Racking Systems
Drive-In Pallet Racking offers high-density storage for warehouse and distribution center inventory—double or more storage capacity. Drive-in racking systems are another "first in, last out" storage solution that's most suitable for large quantities of similar products that can afford to wait in storage. This warehouse racking solution is in high demand.
Cantilever Racks
Cantilever racks are an excellent solution when you need to store long products–they're designed with horizontal arms that extend out from a vertical column (lumber, often, is stored similarly). In addition to long items, cantilever racking is useful for storing products of varying sizes, such as furniture.
Stack Racks
Stack racks are a common warehouse storage system. You may also have seen them referred to as: stackable box, stackable container, stackable pallet, stackers, stackable storage bins, stacking bins, or stacking pallets. As you may imagine, these are popular warehouse storage systems and an important part of many warehouse decommissions.
Conveyors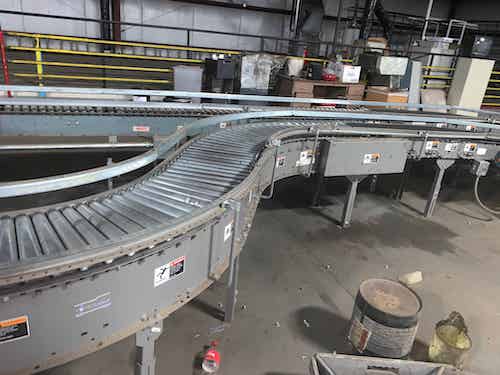 Conveyor systems move inventory quickly through a warehouse. Demand is high for this type of industrial conveyor system in warehouses and distribution centers, making it easier for one of our warehouse liquidators to remove and sell your conveyors.
Industrial Carousels
Industrial carousel systems—horizontal and vertical—are perfect for certain types of inventory, and so are perfect for select buyers. Your experienced warehouse liquidator at CONESCO can find the perfect buyer match for your carousel system.
Talk to one of our warehouse experts >>
Mezzanine Platforms
Mezzanine platforms can be excellent warehouse storage investments with multiple potential uses. They enable full use of a warehouse's vertical space, helping you to maximize your available space and so lower costs, and keep them lower as you grow.
At CONESCO, we have an extensive network of contacts in the industrial surplus and racking industry. That means we often can connect sellers with buyers more quickly to liquidate quality used warehouse equipment. Contact us today for help liquidating your warehouse, distribution center, or storage facility!
FAQs for our Warehouse Liquidators
We get that question all the time! It depends on many factors such as:
will the warehouse be shut down or,
will it still be operating?
How much material is there?
Are the uprights bolted down to the ground?
Best practice is to give yourself multiple months of time in planning so that way you provide a buffer for your project to finish according to a timeline. Getting a full count of the materials and good pictures is a great way to start the process of evaluating the decommission of your warehouse.
It might be quicker than you think! The first step is to give us a call or have us call you. Once we have a good understanding of your unique situation, we typically provide a quote within 5 days and will schedule a time with you to have one of our team members come visit your site.
Yes! There are a few things that will need to happen in order to ensure everyone's safety and some other items need communicated like an agreed upon timeline. It's true, an operating warehouse will sometimes slow down a teardown project. But, we understand it's necessary to avoid disruption of your business during the warehouse shelving and equipment removal process.
Our specialty is in used pallet racks (uprights, beams, wiredecks, pallet supports), pallet rack accessories (like guide/ guard rail, netting), conveyor systems, mezzanines, and pick modules. If your warehouse also includes different material like
balers
shrink wraps
or lifts,
then we can buy/ remove those as well.
Sometimes material is in bad shape or is a very uncommon size or outdated brand. In some of these cases we do not purchase the materials, however we still can provide you with our teardown services to remove the materials from your warehouse. We encourage everyone to reach out so we can better understand what is in your warehouse and what your intentions are. Once we have a good understanding, we are happy to provide you with our recommendations, even if that means not using us.
Absolutely! Removing used warehouse equipment is a messy job. All debris will be properly disposed of and the floors swept.
No. Removing floor anchors does create holes but we take responsibility for grinding them down to be flush with the cement or fill them with cement epoxy.