Looking to buy bulk pallet racking in Denver, CO? You are in the right place. You can choose from our selection of high quality, bulk pallet racking at Conesco Storage Systems. We sell new and used equipment ranging from the basics, like pallet racking and conveyors, all the way up to heavy warehouse equipment including lifts, balers, truck loaders, rolling ladders, and more. Our inventory is perfect for businesses looking to make a big pallet racking buy.
Bulk pallet racking in Denver
Conesco is always adding to our inventory of warehouse equipment at our headquarters in Denver, CO. This building is full of new and used warehouse handling equipment. Browse our website or get in touch with one of our experts about your bulk pallet racking needs. Our representatives are here to help you find exactly what you need.
Warehouse equipment you can buy bulk at our Denver location:
TearDrop Pallet Racking
Pallet Supports
Uprights
Beams
Row Spacers
Drive-In Racking
"We took the 2-hour drive to pick it up and it was ready for us, the transaction took 5 minutes. The conveyor was much better than the original ones on the saw, a great value and we were treated like we were buying a hundred of them by Conesco, just for our little old one conveyor. Good company."
"I have received 3 large orders from the Colorado office. Great prices, orders filled fast. I will definitely be doing more business with Conesco in the future!"
How to buy large scale pallet racking in Denver
If this is your first time buying bulk pallet racking, then we can help you with this process. Here is what you can expect when you visit us in person at our Denver warehouse.
When you show up you will be greeted by our friendly front office manager who will get your salesman for you. Please communicate and schedule a time with one of our sales people if you want to come on-site. We always help walk-ins but it is best practice to set an appointment so everyone's time (especially yours) is use most efficiently and effectively.
We are not an auction and don't do equipment bidding! Most of our customers know the cost savings of used warehouse materials so our inventory of the most sought after products goes very fast. We encourage you to act quickly and secure the equipment you want. We have 17 sales representatives nationwide. That means the most popular items go quickly. Once your quote is confirmed as an order and payment has been made we honor that order.
When you are on-site, we accompany you around the warehouse and yard and help you find the equipment you want. The warehouse has many people working. The warehouse materials are heavy and can be dangerous. After your purchase, you have options for installation and delivery. We can help you set up your rack, we can deliver/coordinate trucking the materials to your location and set up your warehouse equipment. If you prefer picking up and setting up your own material, then we coordinate a pickup time with you. When you arrive to our location, our team will load up your truck and give you a BOL (bill of lading).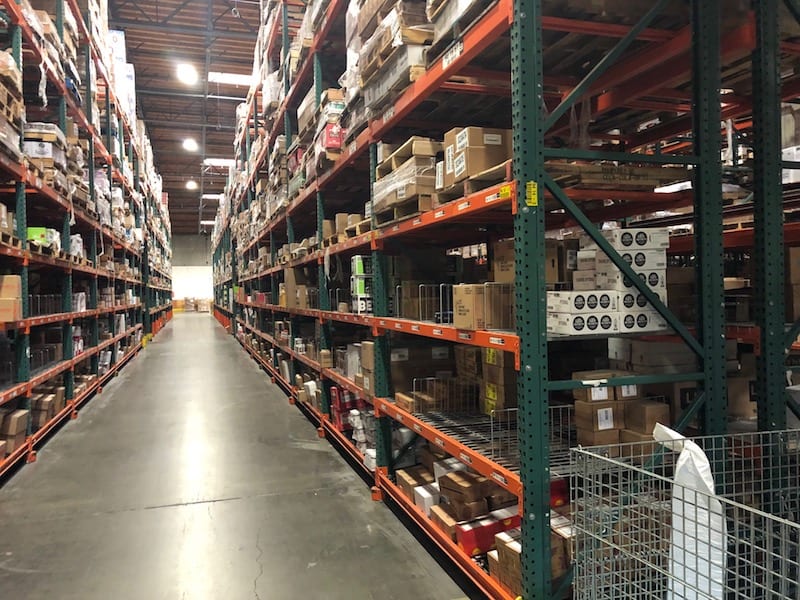 Used warehouse equipment sales questions and answers
Buying used warehouse equipment can be a great savings. Used materials handling equipment and shelving can be found at a much lower price than new equipment despite being in similar condition. Before you buy used warehouse equipment, here are a few questions to ask.
1. What are the sizes, capacities, and styles of the used warehouse equipment?
The first question to ask about the used pallet racks you are considering is about the specifications. This is the information you need to know about sizes, capacities, and style of equipment for your warehouse. We provide this information in PDF format, over the phone and in person. We also welcome you to our Denver sale location to verify the specifications in person.
2. What is the condition of the used warehouse equipment?
The next question to ask before buying used warehouse equipment is about the condition. When you contact Conesco about one of our warehouse liquidations, we send you photos of the equipment via email. If the condition is stellar or "like new" we definitely say so.
The bottom line for us is this:
We only sell equipment that maintains structural integrity so it still functions safely and up to the size's weight capacity.
We encourage you to ask for more photos of the materials and to communicate your expectations of the appearance.
Racking and warehouse materials are metal so rust and imperfect aesthetics are common with used materials but structural integrity, safety, and proper sizing is important to us.
We do fabricate materials to adjust the sizing to fit your needs.
in this case, sometimes a two color variation can be seen on items. For example, uprights where a silver footplate is put on the bottom of uprights after we cut them down to adjust the height.
If aesthetics is important to you, then we can work to find used materials of your preferred color and condition.
We can can also quote new materials. New warehouse materials come straight from the manufacturer and are in pristine condition.
4. Does the warehouse liquidation company have a great reputation?
This might be the most important question. You don't want to drive a long way to purchase used warehouse equipment only to discover you were given half-truths over the phone. You don't want to discover the used pallet racking was taken down by amateurs and damaged in the process.
"Conesco has a great inside sales team and has always been quick to return quotes, even after hours. I have found them to offer the best value for racking in the Denver area and would recommend them to anyone who needs their services."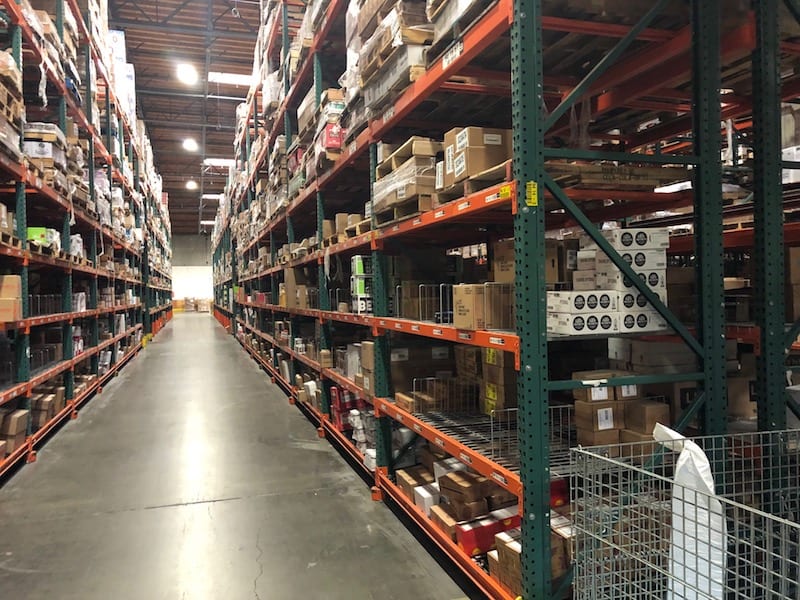 Contact us to request a call from one of our team members:
Since 1986, Conesco Storage Systems Inc. has been a leader in the material handling industry and large scale pallet racking sales. Unlike auction houses, we are specialists in knowing the difference between quality  warehouse equipment and junk. We work with professionals who understand how to safely tear down a warehouse. At Conesco, we answer your questions based upon decades of experience. Family owned and operated, we have been building our warehouse equipment and planning experience one project at a time.
Our Centennial, Colorado headquarters houses our 20,000 square foot warehouse and our 5.5 acre yard full of inventory where you can find bulk bulk warehouse equipment.
Our professional team works all over the United States to serve our customers in Colorado and Nationwide.