Rolling ladders are one of the safest options in a warehouse for workers to access high shelves and areas. Rolling ladders come with a handful of built-in safety features and are designed for efficiently and security in mind. These ladders come in different sizes, allowing them to fit into tight spaces and more open areas of any warehouse. Let's look at whether your warehouse should invest in rolling ladders.
How Rolling Ladders Will Help Your Warehouse
Rolling ladders have a variety of uses in warehouses and other industrial spaces. They come equipped with rugged corrosion resistant materials, are easily cleaned and can come with four to six heavy duty wheels. These wheels will swivel, making it easy to move the ladders to and from different areas of the warehouse where needed the most. You'll find rolling ladders most often in warehouses and large libraries, too.
While forklifts and other methods can be used and installed in warehouses, rolling ladders are one of the easiest and quickest investments. They can be delivered and installed quickly, not much training is involved, and they have an immediate impact on warehouse productivity. With forklifts,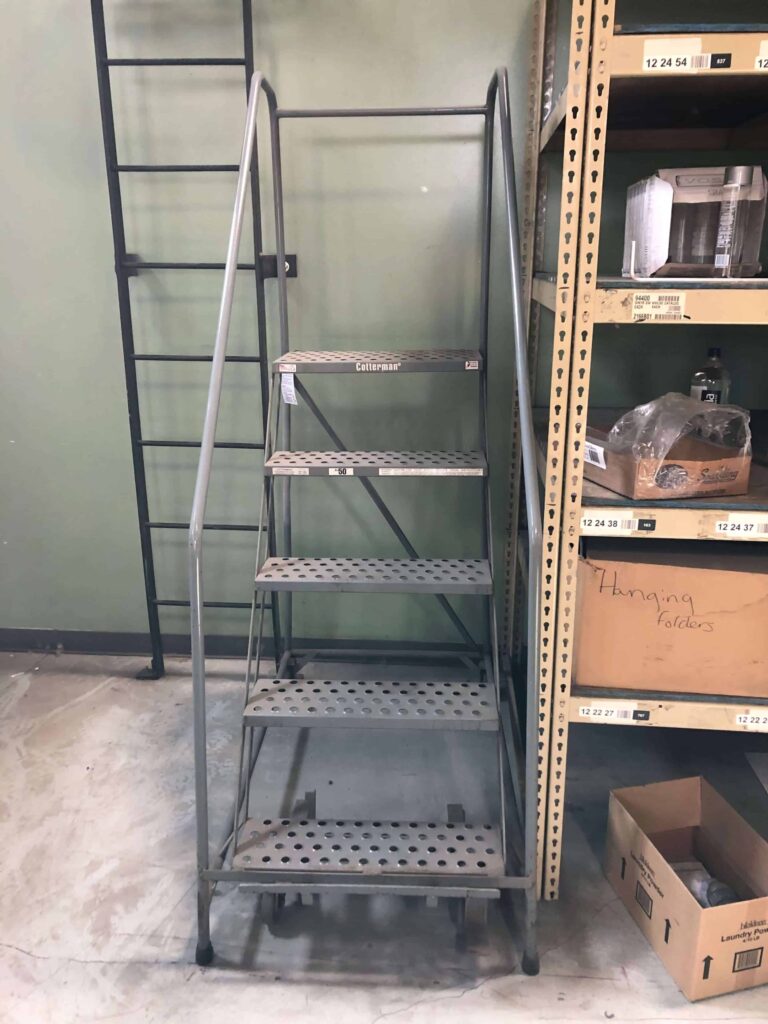 you'll have to invest in additional training and certifications which make take time away from the initial investment in the equipment. Ideally, you would use both methods to reach higher areas of your warehouse when necessary.
Most rolling ladders used in warehouses and other environments are scrutinized by the Occupational Safety and Health Administration (OSHA) to ensure these ladders are safely used in working environments. Some of the things OSHA stresses when using these ladders include:
Cleaning them of contaminants immediately
Ladders should be cleaned regularly with solvent or steam
Ensuring workers don't use the top step for any purpose
These basic guidelines help promote a safe work environment when using rolling ladders.
Investing in rolling ladders helps make life easier for your warehouse workers, along with giving them safely alternatives to climbing between racks, shelves, and other areas. Depending on how high you need your ladders to reach, you'll need to invest in rolling ladders that use guardrails and other safety features. This is good practice for any ladder in an industrial setting because it promotes a safe and efficient worth environment.
What people are saying about CONESCO Storage Systems, Inc.
[testimonial_rotator id=18218 format=list]
Would you like to speak to one of our salesmen over the phone? Just submit your details and we'll be in touch shortly.
Are you looking to buy and sell warehouse equipment? Get your questions answered here.
What kind of warehouse equipment do you buy?
We are looking to purchase large quantities of pallet racking and most other warehouse equipment.
Do you serve my location?
CONESCO serves the entire United States from multiple locations.
How quickly can we get started?
It might be quicker than you think! The first step is to give us a call or have us call you. Once we have a good understanding of your unique situation, we typically provide a quote within 5 days and will schedule a time with you to have one of our team members come visit your site.
Will you buy and remove everything from our warehouse?
Our specialty is in used pallet racks (uprights, beams, wiredecks, pallet supports), pallet rack accessories (like guide/ guard rail, netting), conveyor systems, mezzanines, and pick modules. If your warehouse also includes different material like
balers
shrink wraps or
lifts,
then we can buy/ remove those as well.
Sometimes material is in bad shape or is a very uncommon size or outdated brand. In some of these cases we do not purchase the materials, however we still can provide you with our teardown services to remove the materials from your warehouse. We encourage everyone to reach out so we can better understand what is in your warehouse and what your intentions are. Once we have a good understanding, we are happy to provide you with our recommendations, even if that means not using us.
Will you clean up after you have finished with the shelving and equipment removal?
Absolutely! Removing used warehouse equipment is a messy job. All debris will be properly disposed of and the floors swept.
We are still operating. Can you work around us?
Yes! There are a few things that will need to happen in order to ensure everyone's safety and some other items need communicated like an agreed upon timeline. It's true, an operating warehouse will sometimes slow down a teardown project. But, we understand it's necessary to avoid disruption of your business during the warehouse shelving and equipment removal process.
How long will the used equipment removal process take?
We get that question all the time! It depends on many factors such as:
will the warehouse be shut down or,
will it still be operating?
How much material is there?
Are the uprights bolted down to the ground?
Best practice is to give yourself multiple months of time in planning so that way you provide a buffer for your project to finish according to a timeline. Getting a full count of the materials and good pictures is a great way to start the process of evaluating the decommission of your warehouse.
Will you leave holes in the floor or walls after the removal process?
No. Removing floor anchors does create holes but we take responsibility for grinding them down to be flush with the cement or fill them with cement epoxy.
Powered by HTML5 Responsive FAQ